Want to receive regular Blame Zeus' news in your inbox?

​

​

​

​
Subscribe
Welcome to Blame Zeus' official website

​
Blame Zeus are a rock band from Oporto, Portugal

New official video for SPEECHLESS!
New 2017 tour dates!

New album "THEORY OF PERCEPTION" out now!
Cartaz da festa de lançamento do novo álbum
O cartaz completo para a festa de lançamento de "Theory of Perception" já está desvendado!
No dia 4 de março, no Hard Club, a começar às 21h30 em ponto,
iremos rodear-nos de bons amigos e boa música para festejar este novo trabalho.
Nethergod e Projecto Sem Nome, ambas bandas portuenses, serão os convidados especiais para a primeira parte da noite.
Depois do concerto, estaremos disponíveis para Meet & Greet, junto à mesa de merchandise.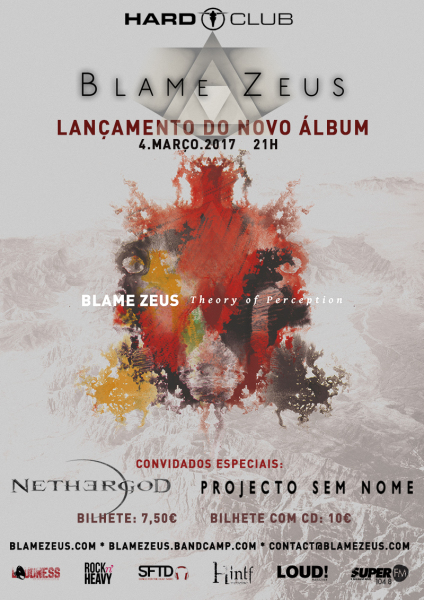 "THEORY OF PERCEPTION" pre-sales are open!
(ENG)

The Pre-sales for our new album "Theory of Perception" are officially open!
(PT)
As pré-vendas do nosso novo álbum "Theory of Perception" estão oficialmente abertas!
ou manda-nos um email para
[email protected]
com o teu pedido ou para esclarecer qualquer dúvida.
New lyric video for "The Moth", the first single from "Theory of Perception"
New album "THEORY OF PERCEPTION" coming soon
This is the cover for our second album "Theory of Perception", due March 4th 2017. It was designed by Hélder Costa.
This graphic work, inspired by the visual ideology of the Rorschach tests, aligns itself perfectly with the theme of the musical and lyric work, that defends that each person sees (and hears) what he/she wants, according to his/her life story and personal experiences.
We invite everyone to see the world through our eyes, and to transform our music into your lives' soundtrack. Please share on the comment section below what you see in the test!
The release of "THEORY OF PERCEPTION" is scheduled for the first trimester of 2017, but there will be new music before that!